Il Prof. Pierpaolo De Feo e il Dott.Giovanni Gambelunghe eseguono  un trattamento innovativo con laser per la riduzione dei noduli tiroidei benigni. Il raggio laser è convogliato all'interno del tessuto nodulare da eliminare mediante sottili fibre ottiche, collocate attraverso aghi di piccolo calibro. Sono utilizzate da 1 a 2 fibre simultaneament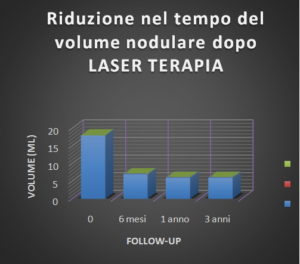 e, in base a dimensioni, conformazione e struttura del nodulo. Il laser determina ipertermia nel tessuto colpito, con denaturazione e necrosi coagulativa e consente di distruggere circa il 60% di tessuto nodulare in una singola sessione (media della riduzione di volume dopo 6 mesi su 500 noduli dopo un singolo trattamento). Per i noduli con dimensioni superiori ai 5 cm di diametro potrebbe essere un secondo trattamento a distanza di 6-1 mesi dal primo. La termoablazione laser ecoguidata non richiede anestesia o sedazione e viene eseguita presso le due sedi sotto riportate. Il costo di un trattamento che richiede una degenza di 4-6 ore è pari a 2.400 euro.
Il Prof. De Feo e il Dott Gambelunghe grazie alla positiva esperienza con questa metodica ed alle loro pubblicazioni scientifiche  sono diventatiun centro di riferimento a livello mondiale ed hanno trattato oltre 1.000 pazienti, diversi provenienti da vari continenti.
Per ulteriori informazioni scrivere a defeotiroide@gmail.com
Bibliografia
Giovanni Gambelunghe, Elisa Stefanetti, Renato Colella, Massimo Monacelli, Nicola Avenia & Pierpaolo De Feo

A single session of laser ablation for toxic thyroid nodules: three-year follow-up results
International Journal of Hyperthermia Vol. 0, Iss. 0, 2018
\\Pacella CM, Mauri G, Cesareo R, Paqualini V, Cianni R, De Feo P, Gambelunghe G, Raggiunti B, Tina D, Deandrea M, Limone PP, Mormile A, Giusti M, Oddo S, Achille G, Di Stasio E, Misischi I, Papini E. A comparison of laser with radiofrequency ablation for the treatment of benign thyroid nodules: a propensity score matching analysis.  Int J Hyperthermia. 2017 Jun 12:1-9. doi: 10.1080/02656736.2017.1332395. [Epub ahead of print]
\\Pacella CM, Mauri G, Achille G, Barbaro D, Bizzarri G, De Feo P, Di Stasio E, Esposito R, Gambelunghe G, Misischi I, Raggiunti B, Rago T, Patelli GL, D'Este S, Vitti P, Papini E.Outcomes and Risk Factors for Complications of Laser Ablation for Thyroid Nodules: A Multicenter Study on 1531 Patients.J ClinEndocrinolMetab. 2015 Oct;100(10):3903-10. doi: 10.1210/jc.2015-1964. Epub 2015 Aug 14.
\\Long-term Efficacy of Ultrasound-Guided Laser Ablation for Benign Solid Thyroid Nodules. Results of a Three-Year Multicenter Prospective Randomized Trial – Papini E, Rago T, Gambelunghe G, Valcavi R, Bizzarri G, Vitti P, De Feo P, Riganti F, Misischi I, Di Stasio E, Pacella CM.J Clin Endocrinol Metab. 2014 Oct;99(10)
\\Gambelunghe G, Bini V, Stefanetti E, Colella R, Monacelli M, Avenia N, De Feo P.Thyroid nodule morphology affects the efficacy of ultrasound-guided interstitial laser ablation: a nested case-control study.Int J Hyperthermia. 2014 Nov;30(7):486-9. doi: 10.3109/02656736.2014.963701. Epub 2014 Oct 7. 
\\GiovanniGambelunghe, Raffaela Fede, Vittorio Bini, Massimo Monacelli, NicolaAvenia, Michele D'Ajello, Renato Colella, Giovanni Nasini and Pierpaolo De Feo. 2013. Ultrasound-guided interstitial laser ablation for thyroid nodules is  effective only at high total amounts of energy: results from a three‑year- pilot study. SurgicalInnovationAug; 20 (4): 345-50. doi: 10.1177/1553350612459276.
\\ Gambelunghe G., Fatone C., Ranchelli A., Fanelli C., Lucidi P., Cavaliere A., Avenia N., D'Ajello M., SanteusanioF., De Feo P.2006.A randomized controlled trial to evaluate the efficacy of ultrasound-guided laser photocoagulation for treatment of benign thyroid nodules. J EndocrinolInvest29(9): 23-26.
\\Hegedüs L. 2004 Clinical practice. The thyroid nodule. New Engl J Med351:1764-1771
\\ Guglielmi R., Pacella C.M., Bianchini A., Bizzarri G., Rinaldi R., Graziano F.M., Petrucci L., Toscano V., Palma E., Poggi M. & Papini E. 2004 Percutaneousethanolinjection treatment in benignthyroidlesions. Role and efficacy. Thyroid14:125-31
\\ Pacella C.M., Bizzarri G., Spiezia S., Bianchini A., Guglielmi R., Crescenzi A., Pacella S., Toscano V. &  Papini E. 2004.Thyroidtissue: US-guidedpercutaneous laser thermalablation. Radiology232(1):272-280
\\Hegedüs L., Bonnema S.J. &Bennedbaek F.N. 2003 Management of simple nodular goiter: current status and future perspectives. Endocrine Reviews24:102-132
\\Døssing H., Bennedbaek F.N., Karstrup S. &Hegedüs L. 2002 Benign solitary solid cold thyroid nodules: US-guided interstitial laser photocoagulation–initial experience. Radiology225(1):53-7.
\\Alexander E.K., Hurwitz S., Heering J.P., Benson C.B., Frates M.C., Doubilet P.M., Cibas E.S., Larsen P.R. &Marqusee E. 2003. Natural history of benign solid and cystic thyroid nodules. Annals of Internal Medicine138:315-318
\\Tunbridge W.M., Evered D.C., Hall R., Appleton D., Brewis M., Clark F., Evans J.G., Young E., Bird T. &Smith PA 1977. The spectrum of thyroid disease in a community: The Whickham survey. ClinEndocrinol7 (6):481-493
CLINICA LIOTTI